So, you've finally got your Facebook ad campaign up and running and now it's time to fuel it and watch it flourish, right? Facebook ad maintenance demands a great deal of effort and time. Facebook clearly understands your pain and natively supports Automated Rules, the primary purpose of which is to help you automatically optimize your campaigns while they're running, whether by increasing or decreasing budgets, stopping an ad if performance is low or notifying you when a critical change occurs for your business.
Well, here at Adscook, we understand that Facebook places some limitations on automation. That's why we've taken it upon ourselves to seek to provide you with more flexible and advanced automation capabilities. Wanting to find out more about how to optimize your Facebook ads to help you move forward? Don't wait any longer: let's dive in and take a closer look at Adscook's automation features and find out why you should be using them.
1.Complex Rules with And/Or Logical Expressions
You already know that, when setting up multiple condition statements within one rule in Facebook Ads Manager, the conditions are automatically tied up with AND logic. This means that the rule will trigger only if this AND that conditions are met at the same time. But what if you want to set up two equivalent condition statements and want the rule to trigger if EITHER of them is met?
We know that some of the most advanced advertisers among you have faced this limitation on Facebook, and this is precisely why we have decided to add it on the Adscook platform: to allow you to conduct advanced experimentations. You can now take this even further and play with any combination of conditions you desire. Create complex condition statements, nest conditions, or do whatever else bakes your cake: Adscook makes all of this possible.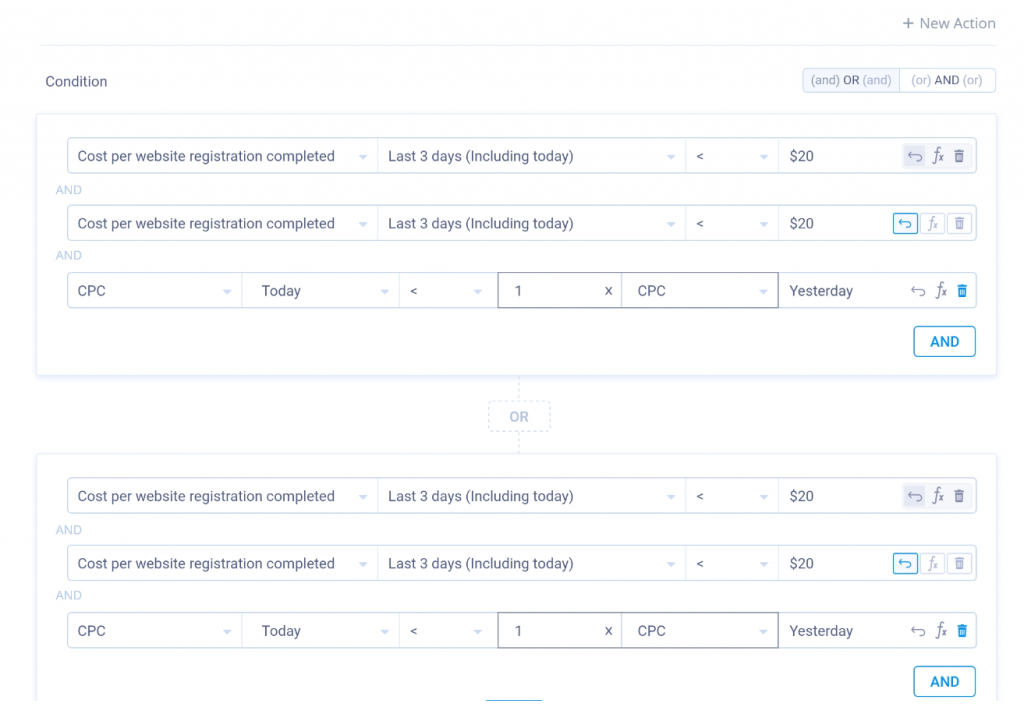 2. Pre-Built Optimization Templates
If you're not as experienced in running automated rules on Facebook as the advertisers we mentioned in the previous point, this may seem like an intimidating task. But help is at hand, thanks to Adscook's pre-built rule templates. Here are the templates we currently support:
Normalize Delivery for Low Bids
Pause Negative ROAS
Scale Best Performers
Scale Aggressive and Safe
Activate Late Conversions
Pause Least Performers
With this set of rules under your belt, you're sure to make the best possible start when you enter the world of automation. These templates are open and new ones can be added, so feel free to propose your own new, killer optimization rule.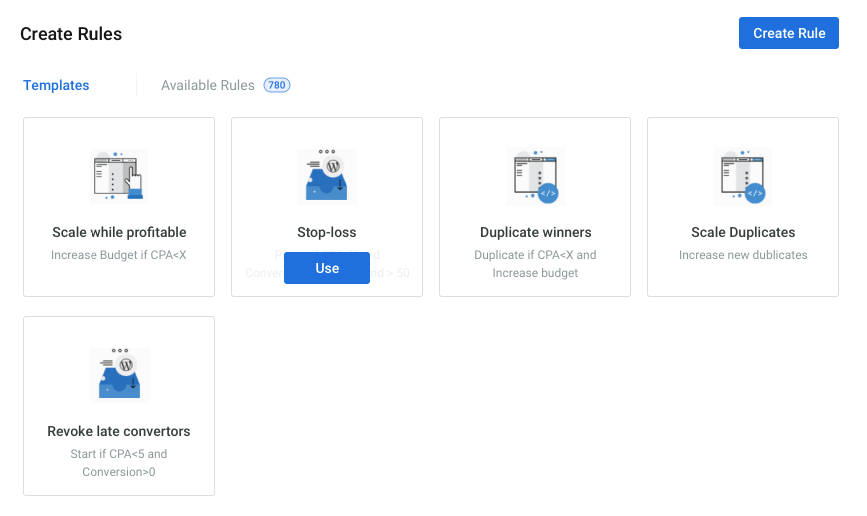 3. Rule Assignment Made Easier
Adscook now offers a more flexible rule assignment system. So that you don't have to go to the list of rules and assign each one individually to a separate campaign, ad set or ad, we make the process smooth and hassle-free by allowing you to choose any object you want the rule to be assigned to right from the rule creation window. This saves you time, helps you get organized and makes the whole process easier and more streamlined.
4. More Actions for Automated Rules
In this point, let's take a closer look at three more key actions that Adscook offers for automated rules.
Duplicate
On Facebook, you can only duplicate your ads manually by selecting the "Duplicate" option on Campaign, Ad set or Ad level. If you have hundreds of ads, then, manual duplication will clearly eat into your time. On Adscook, we've automated the process – simply set up a rule to duplicate your ads once your specified conditions are met and Adscook will do it for you on any schedule you mention. To go the extra mile, we've also added subactions to Duplicate action: Pause original or Do not pause original.
This added action gives you more room to scale your ads, reuse them in new campaigns and conduct other experiments.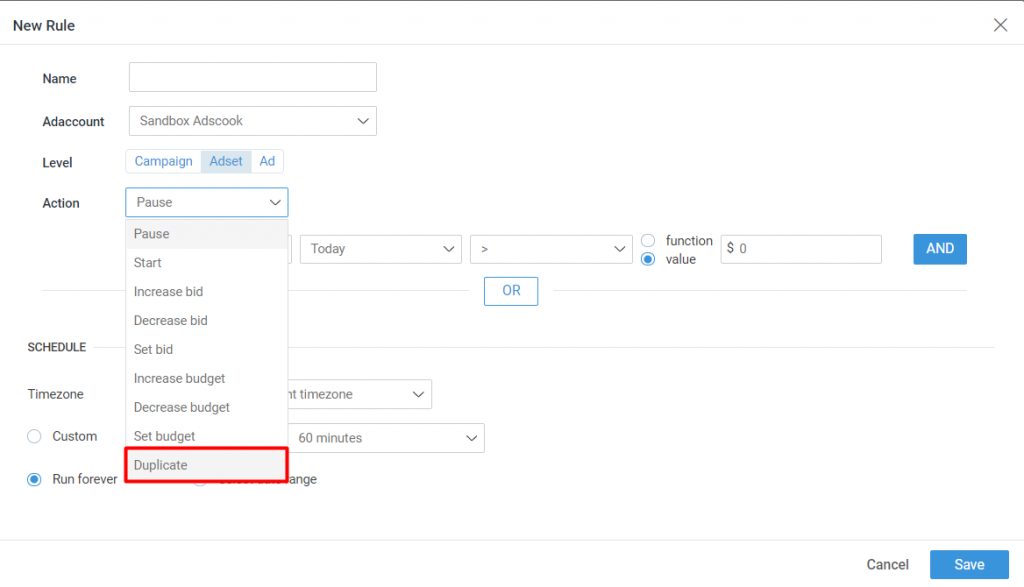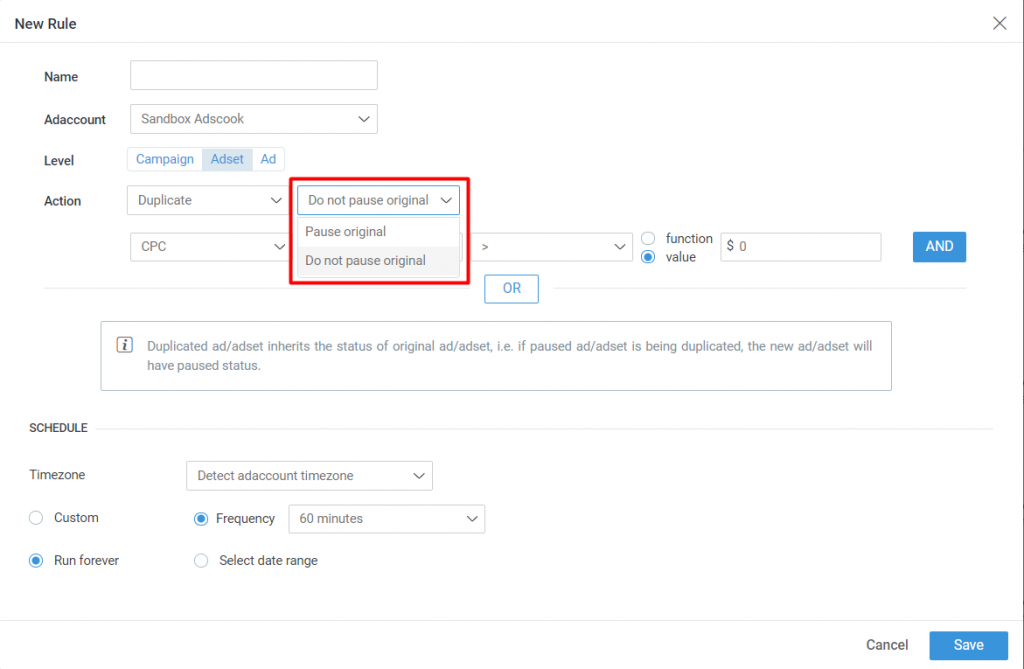 Delete
We've created the "Delete" action to give you full control over the quantity of your ads. Perhaps your ad account is chock-full of outdated ads or you've just reached the maximum number of Facebook ads and ad sets for one ad account: either way, deleting them one by one, and manually, is extremely time-consuming.
This is where Adscook Automated Rules come in. Simply define the conditions that indicate an underperforming ad and set the "Delete" action. The ads affected will then be deleted in bulk, saving you valuable time.
Add to Name/Remove from Name/Replace Text in Name
This set of actions are designed to tag your ads and help you to automatically describe them based on particular criteria.
Do you want to select your best-performing ads from the tons of other ads you have running? If so, a rule such as this can tag them automatically:
Add #BestPerforming to name if CPA last 7 days < $2
If you then see the performance of those same ads decline the following week, instruct the system to remove the tag using this rule:
Remove #BestPerforming from name if CPA last 7 days > $2
Want to replace the tag #BestPerforming with #Good? Do it automatically in a matter of minutes:
Replace text #BestPerforming with #Good in Name if CPA last 7 days = $2
5. Flexible Rule Scheduling
Another key feature offered by Adscook is increased control over the rule checking frequency, rule running time frame, time zone adjustment and attribution window settings.
You can set the rules to be checked at a frequency rate ranging from 15 minutes to 72 hours or, if you don't want any intervals when checking the rules, set the schedule continuously. Have a specific time frame in mind? Take advantage of custom scheduling: set any day of the week at any time and the rule will be checked according to your specific request. You can even set your rule to run forever, or select a date range for it to start and finish. This feature works brilliantly if you're dayparting.
On Facebook, rules run according to the time zone the ad account is set to; on Adscook, however, you can adjust your time zone immediately in the Rule creation window.
What's more, when adjusting the attribution window settings, you can go beyond the standard time frames of 1 day, 7 days, 28 days, etc., and set specific dates on the Adscook platform.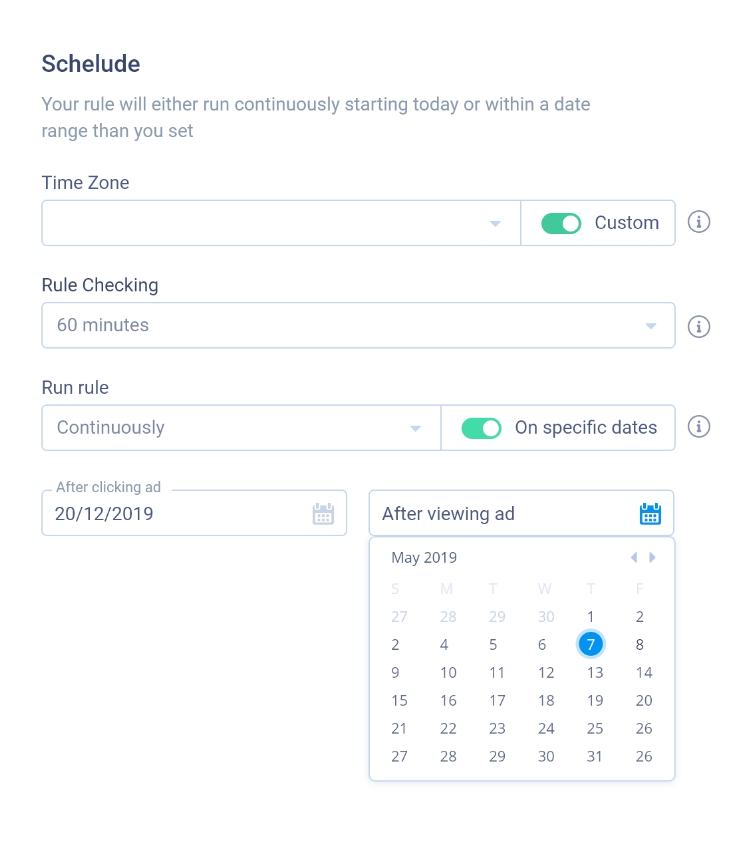 6. Weather-Triggered Automation
Most of the decisions we make on a daily basis are dictated by the weather. Should we wear a warm coat or a lightweight jacket? Should we take a bus or taxi to work? Should we drink a Coca-Cola with ice or a hot coffee? Following this logic, missing the opportunity to boost sales depending on changes in the weather would be, quite simply, irrational.
Facebook doesn't yet natively support any weather targeting options, but we don't want to ignore this great trigger and so have made it available for you so you can set up weather-triggered automated rules. Simply select your target location and the weather conditions (rainy, snowy, sunny, etc.) and select the action you want the rule to take when the weather meets the conditions you specified.
By doing this, you can increase bids on your new raincoat collection on rainy days, restart your paused campaign of selling fog lights in foggy weather or sell iced tea like hotcakes when it's hot by increasing your budget.
7. Custom Automation Solutions
Whether you're already using an automation platform or want to make one from scratch specifically for your advertising campaigns, our experts are there to study your business processes, market needs and workflows thoroughly to come up with the best automation solution. The Adscook team provides custom solutions and off-the-shelf modules for companies of any size. Want to discuss the automation opportunities available to your business? Get in touch now and schedule a free consultation.
Want to see Adscook automation rules in action? Request a free 14-day trial and get started today! No obligations. No credit card or upfront payment.