Facebook is taking a big step in Ecommerce!
Facebook's CEO, Mark Zuckerberg, announced the launch of Facebook Shops on May 19, 2020. This new product will help small businesses easily set up free online storefronts across the Facebook family of apps and sell their products directly. It will also create a new improved shopping experience for users – as well as connecting with friends and family, they will now also be able to form a better connection with their favorite shops and brands and place an order without leaving the apps.

The launch of Facebook Shops comes in the face of the economic crisis caused by the COVID-19 pandemic.
Many small businesses are currently struggling, while 31% of small businesses have stopped operating altogether, according to a report by Facebook.
The crisis has primarily affected those small businesses which were operating brick-and-mortar stores and had never had an online presence before.
With Facebook Shops, physical stores will now be able to easily move online, while those which already had some form of online presence as a supporting channel for running their commerce, can now make virtual store their primary option.

If you can't physically open your store or restaurant, you can still take orders online and ship them to people," Mark Zuckerberg said. "We're seeing a lot of small businesses that never had online businesses get online for the first time."
How "Facebook Shops" Works
Facebook is not actually taking its baby steps in the ecommerce ecosystem. For a while now, Ecommerce businesses have been able to set up their shop section on their Facebook page and Instagram profile and showcase some selected products as lead magnets.
Marketplace has also been operating for some time as a platform for random sellers to sell second-hand products.
However, both of these options lacked some features that would allow small business owners to run a fully-fledged online shop on Facebook.
With this new product launch, Facebook is going big. Both sellers and buyers get all the tools and features necessary to be able to offer an online shopping experience that's as similar to physical shopping as possible.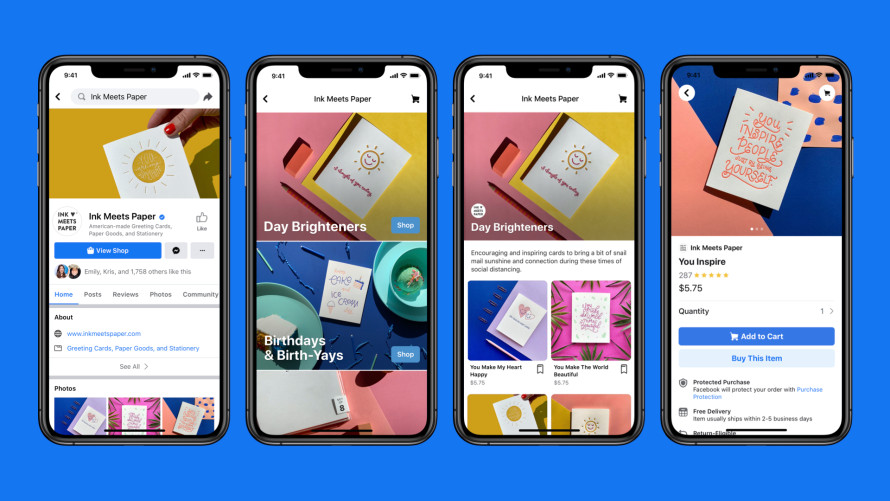 Whether you already have an Ecommerce website or are moving online for the first time, you'll be able to set up a free online store with ease.
Do you have a specific brand style and want your Facebook shop to be in tune with your physical shop or Ecommerce website? Facebook shops are customizable, so you'll be able to feature any products from your catalogue, merchandise them the way you like, upload a cover image or adjust the accent colors according to your brand.

People can access your shop by visiting your Facebook page and Instagram profile, discover it via stories, or targeted ads. They can browse the products by category, save items they like and place an order either by going to the business's website or directly from the app if the business has enabled checkout.

Do your customers have queries or concerns before buying? If so, they will be able to reach out to you by Messenger, WhatsApp, or Instagram Direct, get their questions answered and also track the delivery of their order.
What's more, in the future the products will also be available for purchase right within the chat.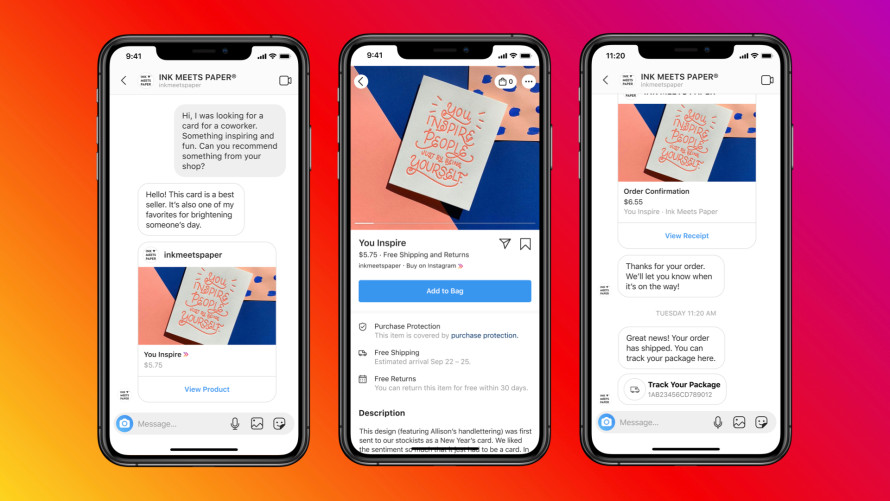 Facebook is also planning to use their AR technology in the future to help shoppers try on their preferred items virtually prior to making a purchase.

To go beyond the Facebook platform and create an Ecommerce ecosystem, Facebook announced its partnership with such Ecommerce giants as Shopify, BigCommerce, WooCommerce, ChannelAdvisor, CedCommerce, Cafe24, Tienda Nube, and Feedonomics.
The partnership will provide small businesses with more support and make the integration of their platforms with Facebook shops a smoother process.

The Business Model of Facebook Shops
As already mentioned, opening an online store on Facebook will be completely free of charge.
Facebook will monetize this new product via ads. For shops to be visible to new consumers, businesses would eventually run ads on their stores.


Our business model here is ads, so rather than charge businesses for Shops, we know that if Shops are valuable for businesses they're going to in general want to bid more for ads," Zuckerberg said. "We'll eventually make money that way."

Facebook will also charge a small fee for sales that are completed through native Checkout. At the moment, it is an invitation-only program that is still in the testing stage and will not be available to all businesses as yet.

How Can Small Businesses Benefit from Facebook Shops?
Facebook has primarily launched "Shops" to get ahead of the economic crisis and help both small businesses and consumers make a smooth and easy transition into virtual life.
According to Oberlo, Facebook's monthly active users counts 2.60 billion, out of which 1.73 billion visit the social networking site on a daily basis. Any small businesses failing to take advantage of this huge audience are making a big mistake, to put it mildly.

Whether you are already running an Ecommerce store or planning to move your physical store online, it's worth taking time now to explore how and why this new product can help your business survive today and thrive in the future.

#1. Facebook Shops are free and easy to set up
If you are opening an online shop for the first time, Facebook Shops will give you the same tools and features as the leading Ecommerce platforms do to build and run a fully-operating Ecommerce store.
You just set up a shop, upload your product catalogue, customize the look and feel of your shop and Facebook automatically creates your shop across the family of apps – all for free.
If you already have your Ecommerce set up on Shopify or BigCommerce, for example, you can easily import your inventory using integration tools and then have your shop set up on Facebook as well.

#2. Facebook Shops are consistently available across the FB family of apps
This means that you won't have to set up your shop separately on Facebook and Instagram. You simply create it once and the same shop is then available both on Facebook and Instagram, later also on Messenger, WhatsApp and Instagram Direct.

This also means that your consumers will have a consistent shopping experience across all apps. As a result, they can save a product on one app, add it to their cart on another and eventually purchase it on the third app.
#3. Facebook Shops are native and fast
As Facebook Shops are native, they are automatically optimized for each app, provide a mobile-first experience, load quickly.
Most importantly, once your customers have made their first purchase, their credit card details are stored and they don't need to enter the same information every time.
#4. You'll be able to tell your story and represent your brand
Facebook Shops will help small businesses tell their brand story, represent their mission and values, and set up their shop with a look and feel that is similar to the physical shop.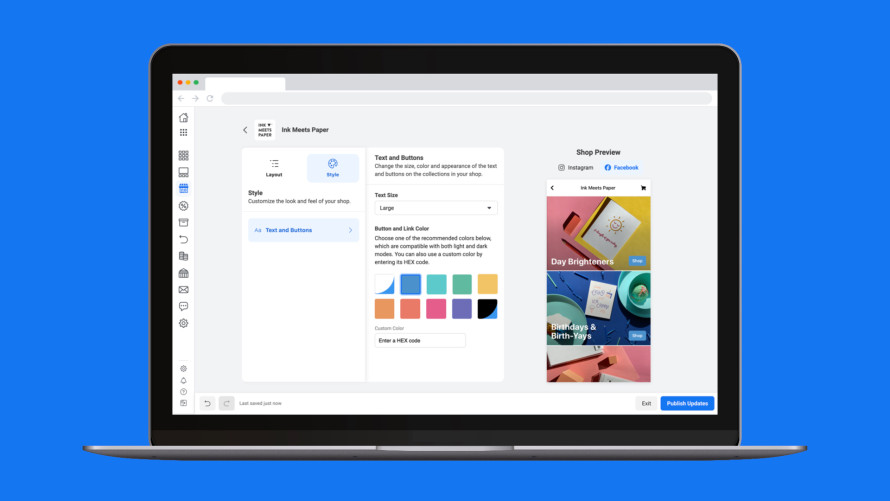 It's therefore about more than just listing your products with images, descriptions and prices. Facebook Shops offers great customization options and excellent programs to represent your brand.
Upload your branded cover photo and add color accents according to your brand's style guide
Create collections of your products and merchandise them the way your would do in your physical shop
Write your story – what made you create your brand, what your mission is, how your products help people
Set up loyalty programs that Facebook will roll out in the coming months and showcase your points and rewards. This will build customer trust and help them make better decisions.
#5. You'll have more opportunities to reach out to your customers
Facebook is also planning to roll out Instagram Shop this summer, a dedicated shopping tab on Instagram.
However, this is actually not a brand new feature but an improved version. Now, people can not only discover new products from different brands on Instagram Explore, but also browse selections from brands, filter products by category like beauty or fashion, and purchase their preferred items right within the app.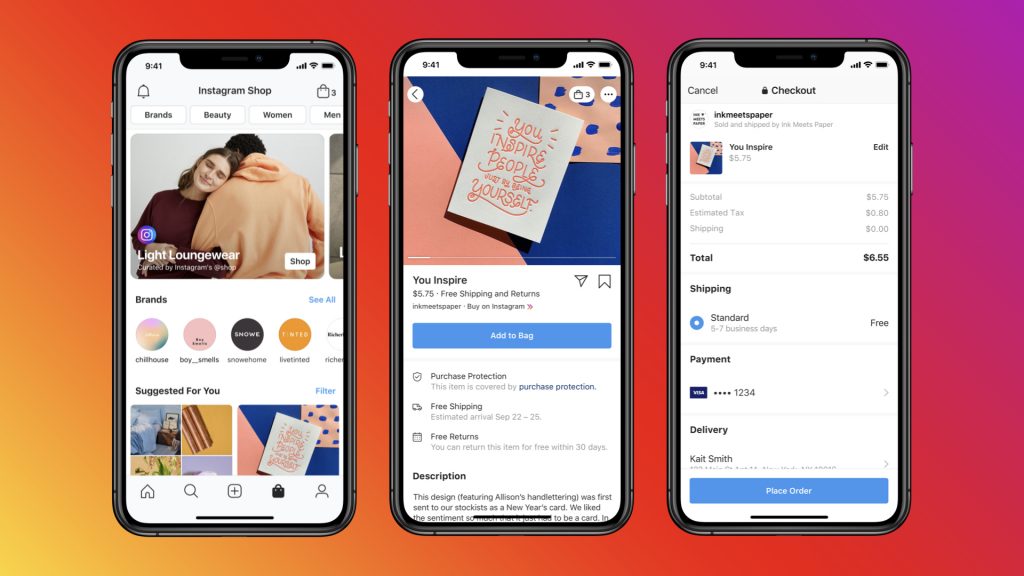 Another feature that Facebook plans to roll out in the future is Live Shopping.
Influencers have widely used Live videos to show trying out a beauty product, unboxing a product or just showcasing a product's features.
With Live Shopping, any brand or influencer will be able to easily tag the products in question before going live and people will then be able to purchase them on live in real time.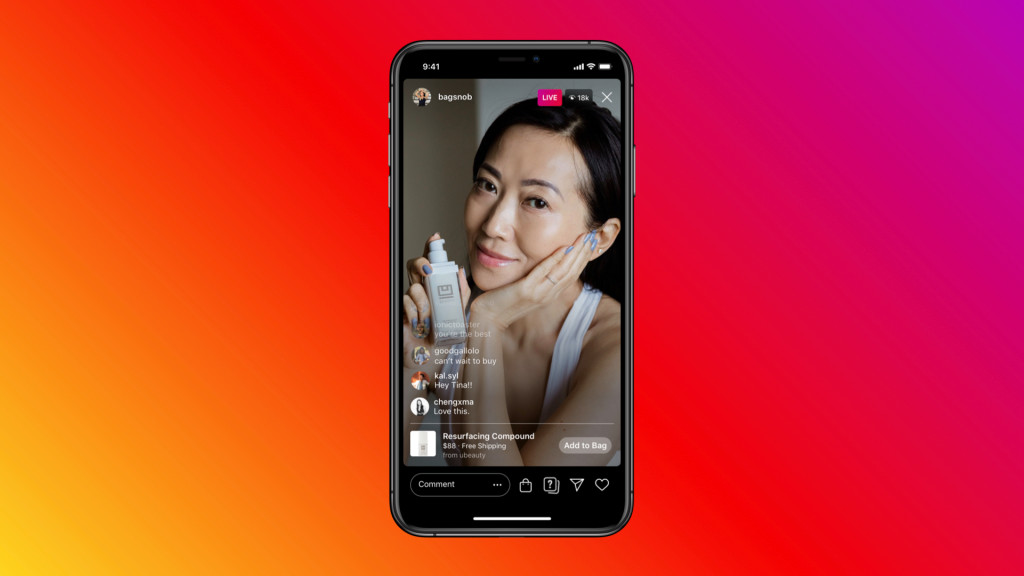 These new features will surely expand the reachout channels for brands, the products will be visible in more places which will lead to more sales.
#6. You'll provide a personalized customer experience with AI features
Personalization equals better shopping experience equals increased conversion rate.
You'll be able to use Facebook's AI system to show your consumers products that are more relevant to them based on their demographic data, interests or behavior.
For example, if you sell clothes for both men and women, and a man visits your online shop, he will be shown the collection for men due to the AI system. Or, if a consumer has already purchased baby clothes from your store, the next time they visit, the AI algorithm will make baby clothes visible to them instantly.

Facebook's Augmented Reality system is another great way to offer a personalized experience. Shoppers will be able to preview the product on themselves first, and then make a purchase decision.

Facebook Shops was rolled out on Tuesday, and for now is available to a limited number of businesses. It will become globally accessible in the coming months.