Any smart Facebook advertiser out there simply can't imagine the world of advertising without Split Testing.
Split tests answer your questions using data rather than guesswork and provide you with new, sometimes unexpected insights that can improve your overall marketing strategy.
Set an image against a video and see how your audience responds to each one, or test whether your product resonates better with a male or female audience.
Whatever you choose to do, there are so many aspects of Facebook ads that can be tested and improved.
Are you short of ideas when it comes to Facebook A/B testing? If so, we're here to equip you with a list of ideas, ranging from target audience to ad design and beyond. You could test one idea out at a time or embark on more interesting multivariate testing and try different combinations all at once.
Facebook Split Testing Ideas for Your Audience
Can you ever be 100% sure that you've found your ideal audience and that this audience is what dictates your advertising strategy in all respects? Finding your ideal audience is an ongoing process and if you ever stop testing, you're simply passing up an opportunity to delve deeper and find a hidden treasure.
Here are some ideas to help you test your audience and find the most profitable one.
Audience testing is conducted on ad set level either manually or automatically with Facebook split testing or a third-party tool.
1. Split Test Two or More Interests/Demographics/Behaviors
Is there an aspect or characteristic of your target audience that you're not sure about and want to test?
As an example, let's look at the age range of your audience. You can create up to 5 audience variations changing only the age variable while leaving the other variables the same.
Play the same way with other aspects, like gender, location, interest, relationship status, or behavior patterns, and gradually you'll manage to narrow down your ideal audience type.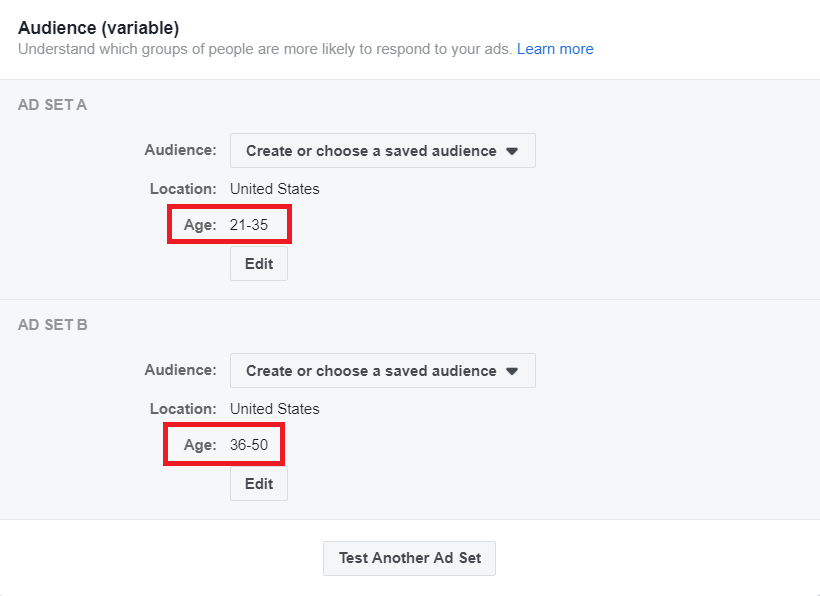 Perhaps you've already defined two or more buyer personas for your business and now want to check which group your product resonates with most? This is where split testing comes in.
Create two or more cold audiences that are relevant to your buyer personas in terms of demographic and interests and set them against each other to determine the winner.
By doing this, you'll be able to make data-driven decisions and distribute your efforts accordingly, whether that means increasing your budget for the winning buyer persona, improving product features for that specific group, or indeed anything else.
Adscook provides an easy-to-use and flexible multivariate A/B testing feature that will save you valuable time and help you organize your work. Instead of having to manually change one audience variable every time, you can now set all variations (locations, languages, age, gender, or interests) within one window, and create all possible combinations. Join Adscook now and publish 100s of variations with a single click.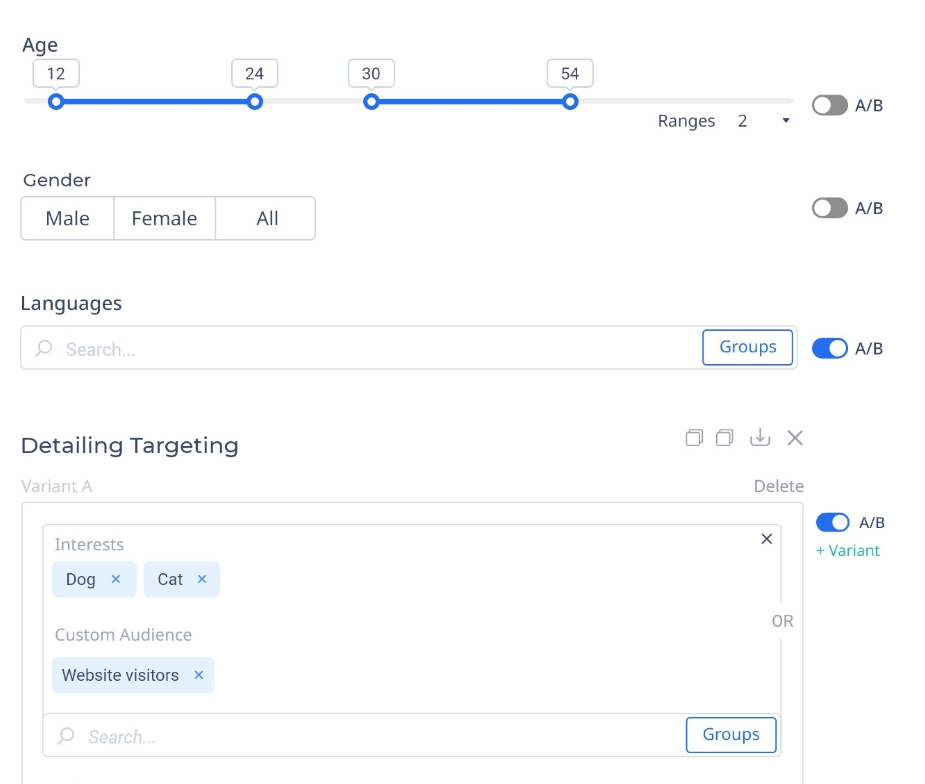 2. Test Different Custom Audiences
Custom audiences are by far the best-performing audience type as they include people who have already interacted with your brand in some way or other – perhaps they visited your website, subscribed to a newsletter, added a product to their cart, made a purchase or just liked your Facebook page.
Custom audiences are also the most cost-effective.

Attracting a new customer is five times more expensive than keeping an existing one.
You can create a custom audience by using different sources like your website, customer list, app activity, Facebook page likes or video views. This variety makes it possible for you to experiment with multiple retargeting tests.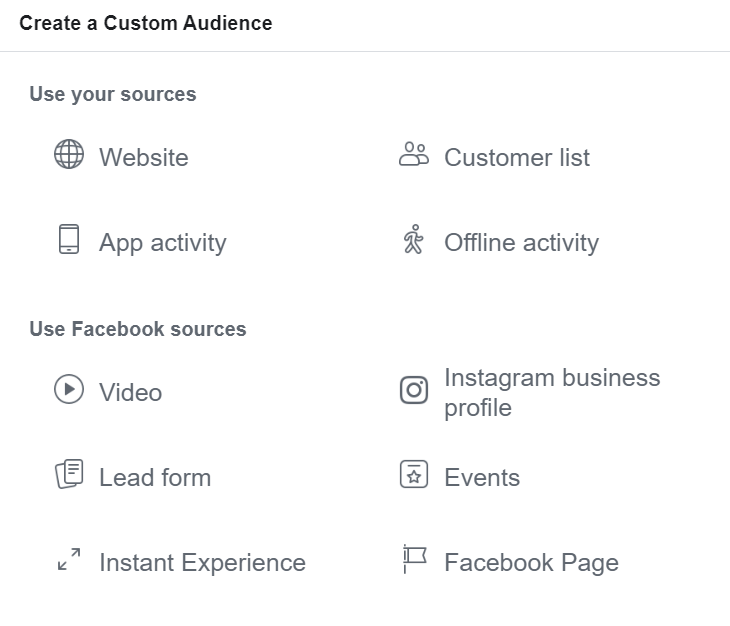 Test the audiences of specific web pages – some pages on your website may be almost equal in value and A/B testing their viewers may offer you valuable insights into your business and lead to better results in the future. For example, if you sell software products, you can split test viewers of your pricing page vs viewers of your case study page or if your business is in ecommerce, you can experiment with the audience for your wish list vs the audience for your add to cart. If you want to gain valuable insight into your content, go ahead and split test by topic or compare your gated content pieces to determine which one performs best.
Split test different customer segments – depending on your business type, you're likely to segment your customer base. Imagine that a new product category is added and you want to test your customers' reaction first. The best way to do this is by showing the same ad to different customer segments and measuring the results.
Split test video viewers – Facebook also allows you to create custom audiences from video viewers on Facebook or Instagram. You can take advantage of this feature to try different options. Retarget and split test the viewers of different videos on your Facebook page or split test people who have watched at least 25% of your video vs people who have watched at least 95% of it.
3. 1% vs. 5% vs. 10% Lookalike Audiences
When creating a lookalike audience, you can select an audience size ranging from 1% to 10%, where 1% consists of people who are most similar to your existing customer base. As the percentage increases, the audience becomes broader.
If a 1% lookalike audience is most likely to buy from you, then why test it versus broader audiences, you might ask? The reason is that, if used very frequently, your most similar 1% audience might get exhausted and begin to show declining results. If this happens, you can then start experimenting with broader audiences.

Facebook Split Testing Ideas for Your Ad Creative
Ad creative is the most fun part of your Facebook split testing. You can't make just one video or write just one passage of ad copy and then sit back and wait to see amazing results – there's always a better design and better copy that might beat your previous results. That's why, when it comes to ad creative, you should always split test two or more versions. Here are some ideas to help you get started.
4. Test Single Image vs. Video
Everyone is now talking about the indisputable advantage of video ads compared to other formats. But does this mean that you should automatically use video ads without a second thought? No – you can't prove that this is the right strategy for your business until you test it for yourself. You can show both a single image and a video with the same offer to your audience, compare the results and then establish which one works better for your product.
McDonald's experiments with single image vs. video testing while keeping its ad copy the same.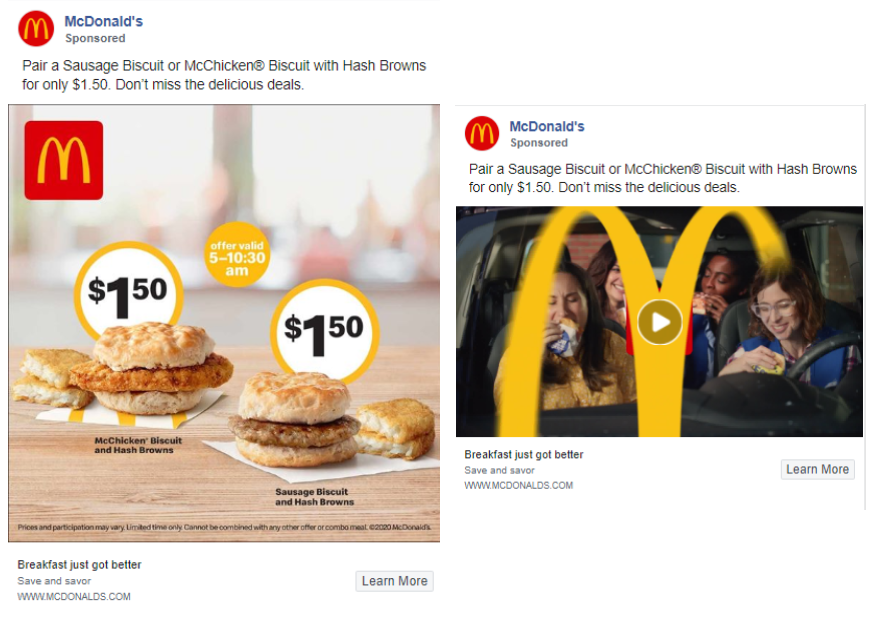 5. Test Single Image vs. Carousel Ads
While a single image allows you to show one shot of a product, multiple images let you tell a story and show the ins and outs of the product and its different uses.
eBags split tests its Mother Lode Weekender bag with a single image and a carousel ad showing the bag's pockets, flexible ways of carrying it and other storage capabilities.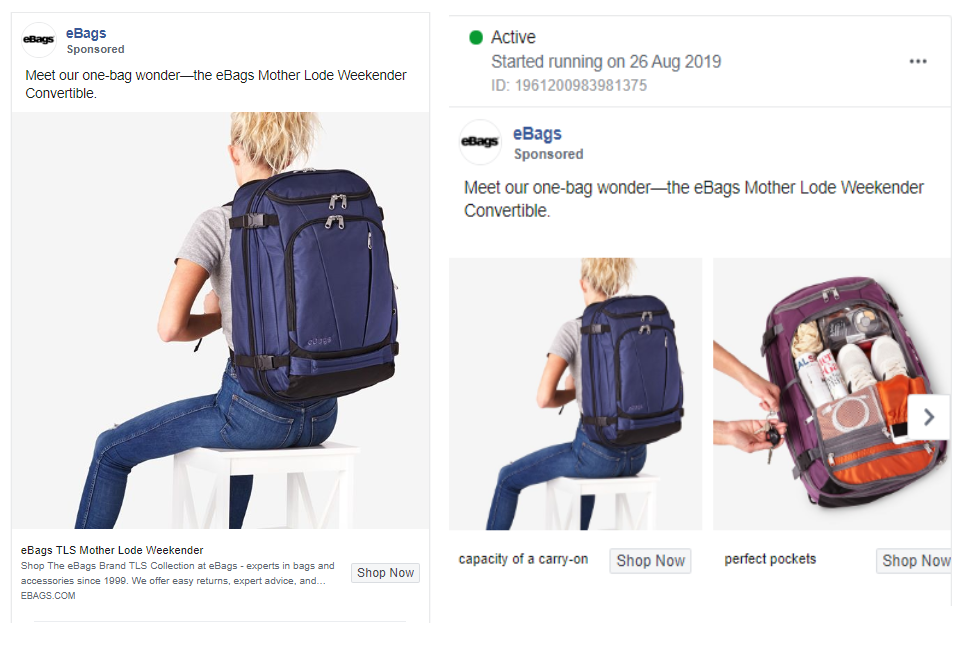 6. Test Long Video vs Short Video
Video length matters. If you show your audience both a long and a short video and then compare the results, you'll gain some valuable insights into your audience's attention span.
Here's another example from eBags – one video explains all the aspects of the carry-on, like a laundry bag or wet/dry cubes, while the other focuses solely on its USB port.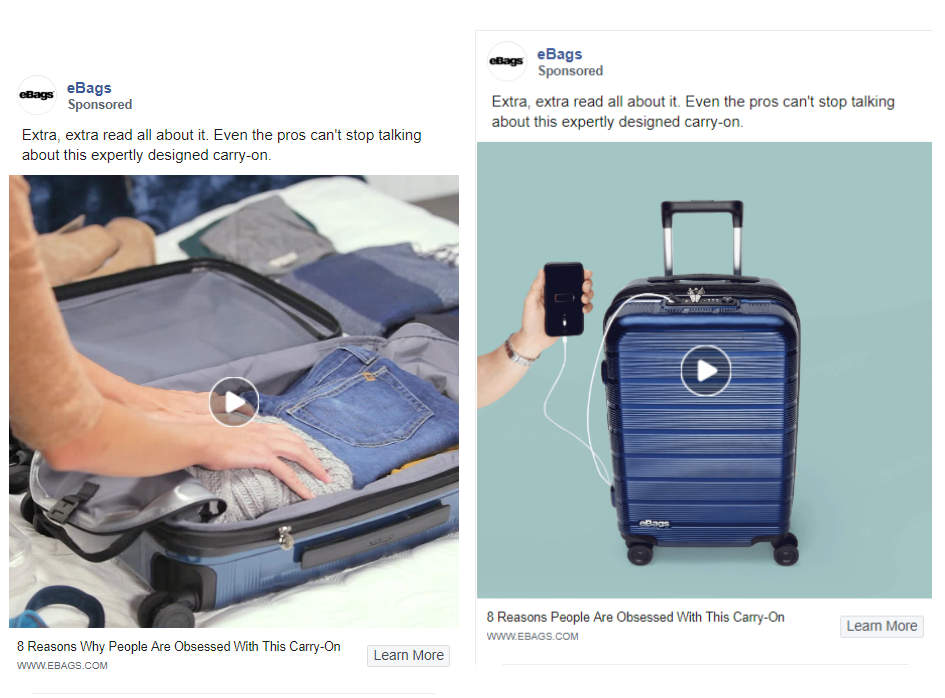 7. Test Ad Copy with Numbers vs. No Numbers
Using numbers in your ad copy can add credibility to your words and make the ad easier to digest. So, it's worth testing this hypothesis and running an A/B test with numbers vs. no numbers.
Here's an example from Zendesk, where one version of the advertising copy stresses the fact that a CSAT score of 95% can be achieved with Zendesk.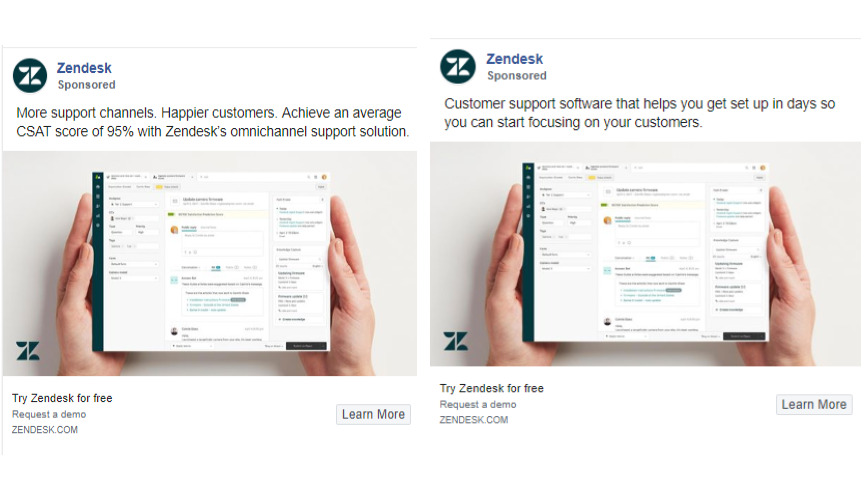 8. Test Different CTAs
As you know, when creating an ad creative, you're prompted to choose from a list of CTAs, from the general, such as 'Learn More', to more specific, like 'Book Now'. What sort of CTA will work best for your business and help you to generate more clicks? Should you just stick with one standard 'Learn More' CTA and not try any others? It's a better idea to test all CTAs relevant to your offer and optimize your CTR.
Here's an example from IPSY with 'Learn More' and 'Sign Up' CTA variations: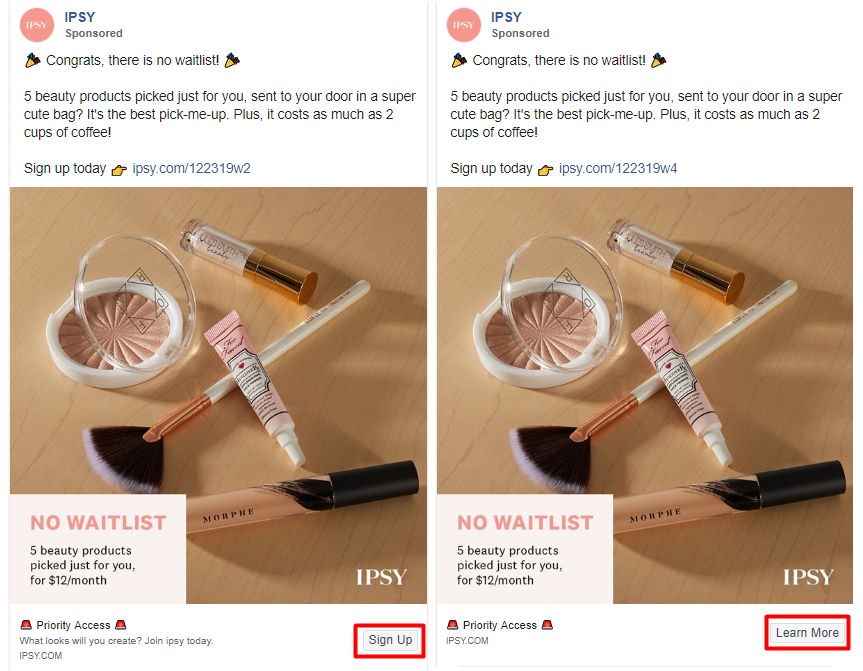 9. Ask a Question vs. Make a Statement
Should you use a question mark or a period in your ad copy? Question marks have already proven to be quite effective in advertising, as they question the problem faced by the audience and seek to solve it. But does this mean that you should give up on statements? No, because it's perfectly possible that your audience will gravitate towards statements rather than questions. Split test your ad copy to check the hypothesis.
Here's an example from HubSpot: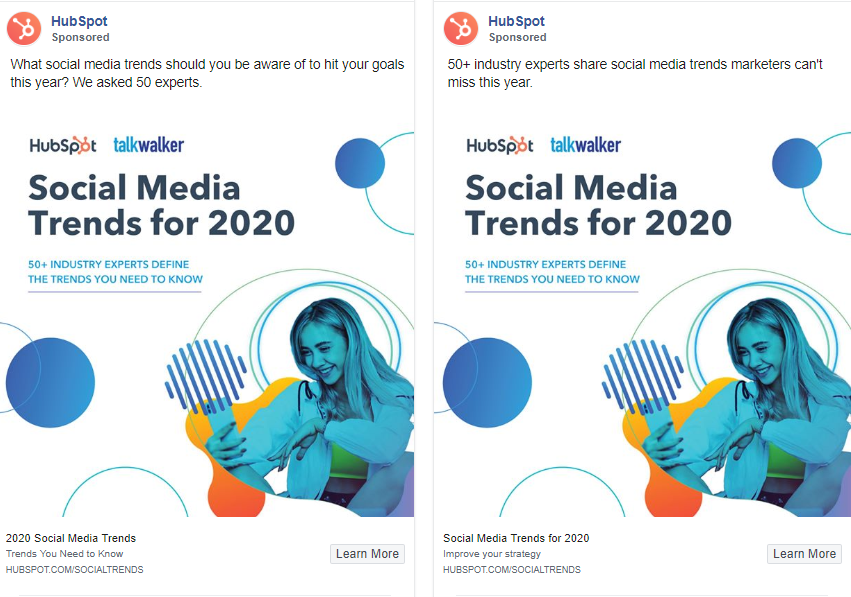 10. Test the Headline With and Without the Word "Free"
How powerful is the word "free" when it comes to Facebook advertising? People usually love free stuff so may instinctively click on ads that mention free products or services, but it's possible that your target audience won't necessarily trust someone who sells free things. So, to eliminate any guesswork, go ahead and A/B test your ad headline with the word "free" and without it.
Here's an example from HubSpot, advertising their free CRM.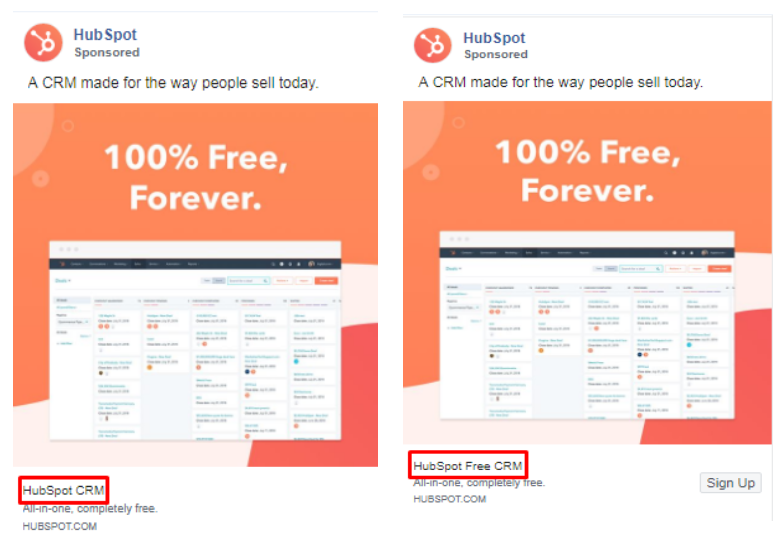 Facebook Split Testing Ideas for Your Ad Placement
Do you give equal time to each social media platform? Do you like to use all of the available platforms? Probably not. You might browse Instagram more often than your Facebook feed, or perhaps you prefer scrolling through your Facebook Mobile Feed rather than your Desktop Feed. Take all of this into account when advertising on Facebook and test which platforms your target audience likes to use most. There's always hidden information just waiting to be discovered!
11. Test Automatic Placements vs. Edit Placements
Facebook's algorithm is becoming smarter every day, and it already has enough data to automatically put your ads in the places where they're likely to perform best for your target audience.
However, if you know your audience inside out, down to the detail of the places they view most, you may feel a little skeptical about automatic placement. Just to end your doubts, you can A/B test your ads with automatic placement vs. choosing the placement yourself.
12. Test Different Platforms
When advertising on Facebook, the following four platforms are available to you: Facebook, Audience Network, Instagram and Messenger. Each platform has its own relevant placements. To get a better idea of where your audience is most active, we suggest that you run tests on different placements and then use the results to determine where to allocate your budget.

13. Test Different Devices
On Adscook, we also offer A/B testing for iOS and Android devices. This could be a great idea if you're advertising an app and want to find out whether your best performing audience uses iOS or Android.

To Sum Up…
A/B testing your Facebook ads is a must if you want to move to the next level and enter a more data-driven world of advertising. The list we've provided here is a great starting point – take an idea or two and start experimenting.
If you already have experience with A/B testing, go ahead and share it in the comments below. We'd love to include it on our list.
Haven't tried multivariate testing yet? With Adscook, you can use all combinations of audiences, ad images, copies, devices, etc., and find your best converting ads. If this sounds interesting to you, come join Adscook and get 30-day free trial.